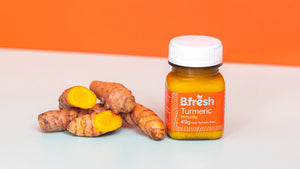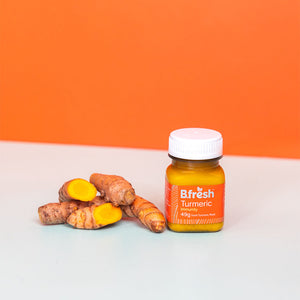 Beat The Cold With Our Turmeric Immunity Shots!
Made With 49g Of Fresh Turmeric Root
Turmeric contains curcumin, a powerful antioxidant and anti-inflammatory compound that supports immune health and helps the body fight infections.
Curcumin in turmeric enhances the body's natural antioxidant defenses, protecting against oxidative stress and strengthening the immune system.
Curcumin disrupts the activity of viruses, limiting their replication and preventing the onset of viral infections, making it particularly useful during the winter months when colds and flu are prevalent.
Turmeric Immunity
Boosted With Vitamin D3
Vitamin D functions like a hormone, impacting various bodily functions.
Traditionally known for supporting calcium absorption and bone health.
Recent research shows it's crucial for immune function, muscle, and mental wellbeing.
Termed "sunshine vitamin" because it can be generated through sunlight exposure.
Free Delivery On All Orders Over £40
Hear From Nutritionist Matt Jones
''B.fresh Turmeric Shots have the highest concentration of natural curcumin of any shot available on the market currently. The Turmeric Immunity shot is combined with vitamin D to support immune function and protect against illness. We heavily recommend these to the players - not just during the winter but all year round.
''Excellent service from B.fresh. been using this service for some months now. Taking the Turmeric Immunity shots. Got through the winter months without a cold/flu. my regular delivery arrives every 2 weeks, always on time.''

Lilieth Nicholson
''The turmeric shots came very quickly and were packed to keep cool, I enjoyed them my flu has gone and I feel better I will order again to boost my immune system.''

Lesley
★★★★★

''Love my turmeric shots…. Every month they come… immunity boosters!! Totally brilliant stuff.''

Gary Mounfield
Official Turmeric Partner Of Sheffield United
Trusted By The Pros
We're proud to be partnered with Sheffield United for the 2023/24 season. Supplying the first team with a wide range of our cold-pressed products including our turmeric shots.
How to store...
Step 1. Unpack your shots and keep them refrigerated! Minimum 28 days shelf-life from delivery.
Step 2. Drink and enjoy! Whether this be straight from the bottle, poured into a shot glass or added to water.
Step 3. Recycle! All of our bottles are 100% recyclable and our shot bottles are made of fully recycled materials.